Dear Parents and Carers,
I hope that this message finds you well as we await further updates on the progress and hopefully positive impact of the 'Circuit Breaker'.
I thank you for your contributions to the survey that we issued last week which remains open for responses. It's always nice to hear the very many positive comments that you sent back however we are of course keen to hear about areas where we can improve things and our initial response may be seen below:
· Feedback suggests that keeping registration open until 9.30 is confusing and impacting punctuality to period 1. Therefore, from Tuesday19th we will be adopting the normal school registration time ending at 9.10am.
· Generally that the principle of following student's normal timetable was considered a good one. There was also an appreciation of the provision of regular work however some concerns were raised about the time spent online or in front of a screen. In response to this we are asking staff to reduce lessons to 45 minutes. All lessons will still begin at the same time but finish 5 minutes earlier and we would encourage students to get up and have a walk round and get away from their working area during lesson and formal timetabled breaks.
The adjusted schedule can be seen below and I would ask that students are on time for each lesson to avoid staff having to repeat introductions and instructions which will in turn compromise the working time students have in lesson with a knock on impact on work needing to be completed outside of lesson time.
P1 9:10 – 9:55
P2 10am – 10:45
Break 10:45-11:05
P3 11:05 – 11:50
P4 11:55 – 12:40
Lunch 12:40 – 2pm
P5 2pm – 2:45
P6 2:50 – 3:35
There was mixed feedback about the type of activities provided and I would like to point out that, although lessons will normally start with a communication with the teacher, the activities that the students are then asked to undertake may be completed independently. Some activities may be completed off the computer and from student, parent and staff feedback we should all be conscious of the need to take a break from our screens wherever possible.
· Whilst conscious of the desire to maintain progress in learning, I have also asked staff to be wary of providing excessive additional work beyond the school day as we recognise that it is important for all of our wellbeing to get outside and spend time with our families. With parental feedback regarding screen time in mind, we should all try to consider 4pm as a sensible cut-off for online working and try to get some time away from our computers and safely get some fresh air. I would not expect staff to routinely be picking up or responding to communications after 4pm.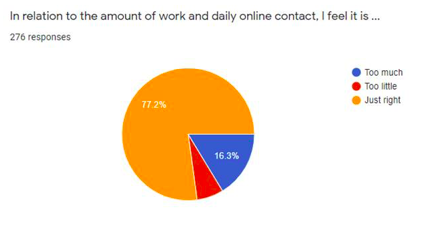 · With some issues around wellbeing and social interaction raised by parents and carers I would like to let you know that during normal PGE time (Wednesday 11.05-11.50am) form tutors will host an open TEAMS meeting for their form where students can interact with each other and their tutor to discuss experiences and take time to check that everyone is doing okay during this difficult time.
I will provide further feedback as we analyse responses that are still being submitted however I should remind you that if you have any queries or concerns then please do contact us in school at RGSEnquiries@sch.im and we will get back to you as soon as we can.
Thankyou once again and as ever for your support
Graeme