Things aren't like they used to be!
The other day I found myself flicking, as you do, through the school magazine 'Y Feeagh' from December 1943!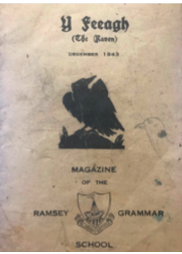 It struck me that just as our students have shown great resilience in coping and adapting to remote learning, in 1943, as the war still raged, student were toughing out the rigours of life at RGS!

I wonder if any of you recognise any of these names from December 1943?!
The weather also appeared pretty bleak at that time and as we think about returning to school on February 1st the extract below reminds us of the need for appropriate attire. In 1943 it was warm coats and gloves, for the classes of 2021 it is plain black shoes, a black non-lycra skirt, no leggings or jeans and an absence of facial piercings apart from a maximum of 2 earings in each ear.
I hope that you enjoyed those two little extracts. I will continue looking for more interesting articles … 1946 next!