It was that time again recently. The day that book lovers everywhere rejoice in: The Readathon. As usual, the students and teachers at Ramsey Grammar School slowed everything down and picked up a good book for the day.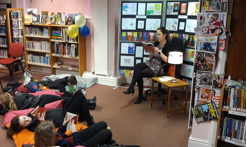 The Library hosted the event and there were eager students camped out with their heads in books.
Miss Nickson took the lead, spending several hours reading to the students. This was of course done in true World Book Day fashion, dressed in her Tigger costume. Miss Nickson wasn't the only one to dress up as a character from a book. Miss Kneen, who had the Library open all day long for readers to come and engross themselves in books, was dressed as the Wicked Witch of the West from The Wizard of Oz and looked absolutely magical.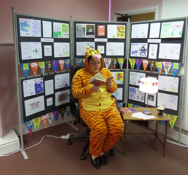 The event started as soon as the school doors opened in the morning and ran on into the evening. Many of the staff took time out of their day and came to volunteer to read to the students, which encouraged eager students to pick out a seat and absorb famous narratives such as J. K. Rowling's infamous Harry Potter. The Head herself sat reading a favourite book of hers, much to the delight of the students.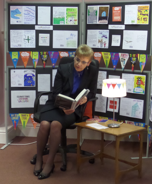 This day follows World Book Day, a day celebrated world-wide that is dedicated to our love of books. Whilst the Readthon is also book-centric it has another purpose. The Readathon is a charity whose main aim is to raise money for books to be provided in children's hospitals, a cause which greatly reflects our Ramsey Way of Being. However, it wasn't just our secondary school getting involved in the event, Bunscoill Rhumsaa students also took the opportunity to visit RGS and enjoyed a selection of books and food both laid out in Miss Nickson's room.
The day was such a success and many students are already planning their costumes for next year.