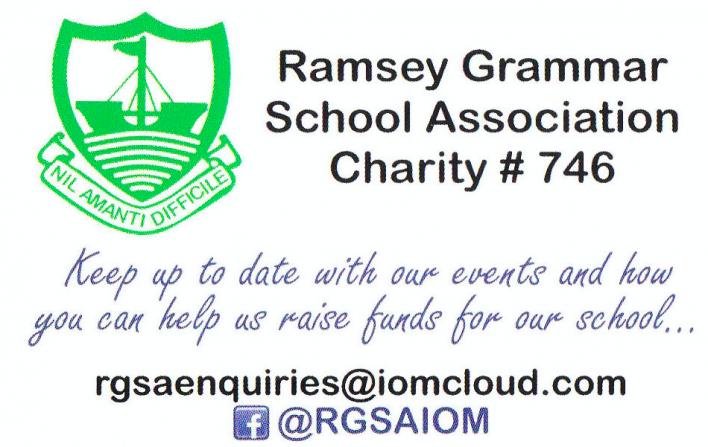 The RGSA constitution, as you may have read, needs updating in light of the very limited numbers of committee members of the RGSA, as well as changes in our funding and donations. We had hoped that this could be done quickly before the Quiz, however, we felt this did not allow enough time for a comprehensive review of the existing constitution and proposed changes. We are thus giving notice that the Extraordinary meeting planned for Jan 26th has been cancelled and we will notify you all when a new meeting is planned.
Lloyds Bank have very kindly agreed to match fund our upcoming Quiz Night and Raffle/Hamper table. This is thanks to one of our parents Tania Cowan very kindly suggesting our charity to them. Many thanks Tania. Can we please help support the School Association by attending the Quiz, buying Hamper and Raffle tickets or donating raffle prizes. Please contact a committee member for help on FB page, private message or via email rgsaenquiries@iomcloud.com
Ramsey Grammar School Association (RGSA) is a small group of parents and teachers who work together throughout the year fundraising for extracurricular books, equipment and improvements around the school to enhance the learning and working environment of all at RGS.

In the past we have funded minibuses, the landscaping of the Quadrant area, provided a new greenhouse, Psychology and Japanese text books, and yoga mats and equipment for the wellbeing of staff and pupils, as well as helping fund a recent Year 13 English Trip to the Globe Theatre for students to participate in a workshop and watch the A level set text performed.
There are many events throughout the year, with our main regulars being the Community Quiz in January, monthly Film Evenings, Make it Grow (Year 7 Project) and a social event to welcome Year 7 pupils in September. We do however need and welcome new members and ideas for events and purchases. The Year 7 pupils from last year asked for bench/seating options with the profits from their Make it Grow scheme which we hope to source soon.
Chair: Vacant
Vice- Chair: Andrea Needham
Treasurer: Damon Otto
Vice Treasurer: Rene Otto
Secretary: Janien Hulbert
Press Officer: Sharon Henery
To contact us, please use the following email rgsaenquiries@iomcloud.com
Our Facebook page will let you message us or keep you informed of events happening in the foreseeable future - @RGSAIOM